On the top right of your translation editor you can find a magnifier icon which opens the search and replace tool.

It enables you to search for a specific pattern in the source or target segments and even for occurrences of pairs of words in the source AND target simultaneously.
You can refine your search, flagging the box Match Case or Whole word.
Match Case: this will make the search case sensitive,
Whole word: if flagged, it excludes all the results where the word you are looking for is contained in another word.
Here you can find some examples:

In this case one of the results provided for the word child is children

If you flag the option Whole word, the search provides only the occurrences of the word child (but not children).
You can refine your list, searching by segment status (New, Draft, Translated, Approved, Rejected). This way you will get results only from segments that match the status you choose.
Click on Segment status and choose which segments you want to apply the search to.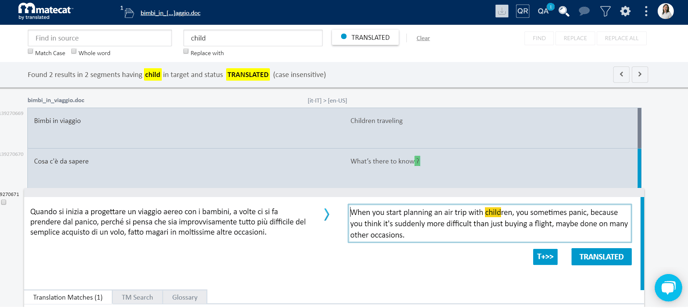 The last option you have on this panel is replacing words in the target using the REPLACE and REPLACE ALL button.

Notice that the replacement applies to all segments. In the translate mode, it changes the text and the segment status as well. So if you replace a term in a draft segment, you will notice that it will be changed and saved as translated.
If you are in the revising mode and you try to apply the replace all to segments that are still in status translated, you will see a warning message like that.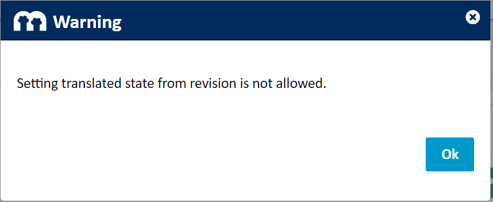 In order to apply a bulk replacement, you should previously approve the segments.
Search and replace in split jobs
If you have a project that is split into more chunks, you have the possibility to apply the Search feature to a single chunk or to extend the search to the entire project.

You can flag the Search all chunks option and click on Find again.

In this case, you can navigate through the segments even if they are not included in your chunk, but you can't apply any change to them.