For a number of language pairs, Matecat automatically places the tags where they belong in the target language. We analyzed millions of segments processed by professionals and observed how they handled all types of tags and used Machine Learning techniques to let Matecat learn where to place them.
How does it work?
You can check if the feature is active and enable/disable it from the Settings panel.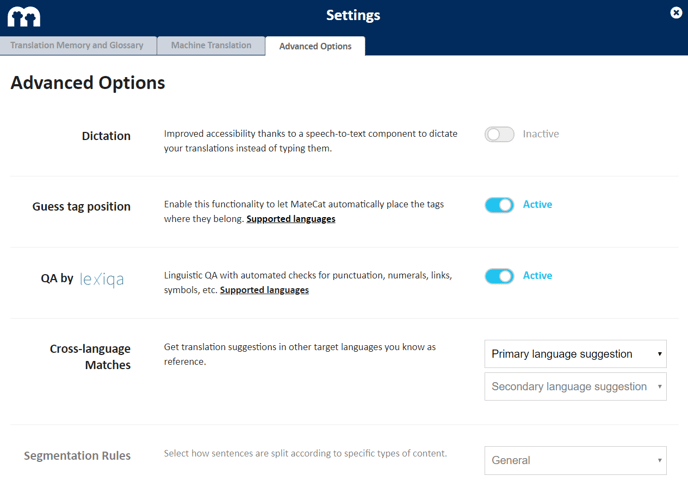 How does it work?
Whenever you come across a segment that contains tags, Matecat hides the tags from the source and target segments and shows a new button: Guess tags.

After translating the segment, just click on the Guess tags button or use the shortcut CMD/CTRL+Enter. Matecat will display the tags in the source segment and place them in the right position in the target segment. If Matecat misplaces the tags, you can fix the position just like you're used to doing and then confirm the translation by clicking on Translated.

This feature is disabled for segments you have already translated and for those that have a 100% match – in such cases, we assume that a human already made sure that the tags are in the right place.
For which languages?
The Guess tag feature is active by default for the following language pairs (both ways) and we'll continue adding more: