What is MMT?
MMT is a brand-new adaptive neural MT engine developed by TRANSLATED, the Fondazione Bruno Kessler (FBK), the University of Edinburgh and TAUS, with funding from the European Union.
MMT is a custom, context-aware machine translation technology that learns from translation memories and post-editing during the translation workflow. Its unique architecture allows it to adapt to the content in real time: translators receive context-dependent MT suggestions while they work. Furthermore, it does not require any initial training or setup time; instead, it learns quickly and seamlessly from translation memories and corrections. MMT learns from and adapts to the text provided, guaranteeing efficient, high-quality translation processes.
This plug-in provides machine translations from MMT for all supported language pairs. For all other pairs, Matecat will automatically select the best engine to use for each translation at no additional cost: Google Translate (Neural or Statistical MT), DeepL (Neural MT), or MMT (Adaptive Neural MT).
How do I use MMT in Matecat?
If you are logged in, you will find MMT among the available machine translation systems via the Add an MT engine option. Choose MMT as your machine translation provider and then click on the green Buy Online button in order to purchase the MMT license key after entering your credit card details.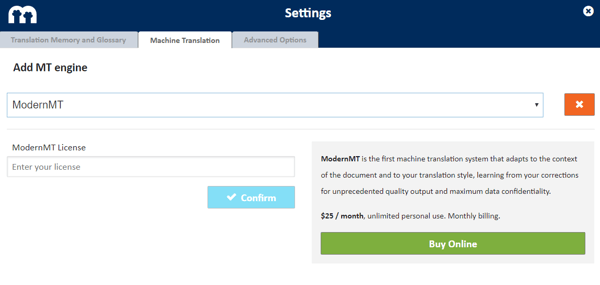 Once you have filled in your payment info, your license key will be displayed on the screen, followed by an email containing the same key. In order to activate MMT for your translation projects, make sure to copy and paste the key into the corresponding input box and confirm it. Activation occurs very quickly for easy access to your custom MT.
There are no setup fees and no contracts: you'll only pay for what you use on a monthly basis.
Available language pairs
Currently, ModernMT supports more than 2100 language combinations. It translates from and into the following languages: Albanian, Arabic, Bosnian, Bulgarian, Catalan, Chinese, Chinese Traditional, Croatian, Czech, Danish, Dutch, English, Estonian, Finnish, French, German, Greek, Hebrew, Hindi, Hungarian, Icelandic, Indonesian, Italian, Japanese, Korean, Latvian, Lithuanian, Macedonian, Malay, Maltese, Norwegian Bokmal, Norwegian Nynorsk, Polish, Portuguese, Portuguese Brazil, Romanian, Russian, Serbian Cyrillic, Serbian Latin, Slovak, Slovenian, Spanish, Spanish Latin America, Swedish, Thai, Turkish, Ukrainian, Vietnamese.
More information about MMT
You can find more information on MMT at http://www.modernmt.eu. If you need help, please contact info@modernmt.eu.