The default Machine Translation Engine on Matecat is MyMemory, provided to all the users for free.
However, you have the possibility to choose different MT options on the basis of your personal translation requirements.
In order to choose a different MT engine click on the tab Add MT engine and choose from the provider list. All you need are the credentials granted by your machine translation provider.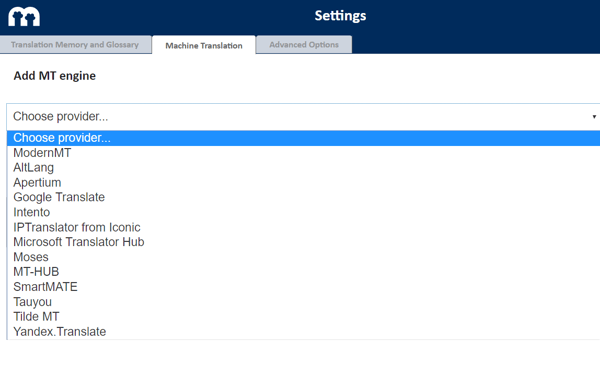 Modern MT is an advanced machine translation engine that provides adaptive neural MT. Basically, you can upload your translation memories and it will adapt instantly to your jargon and branding to provide tailored MT output. No training time is required and quality is very high, as a matter of fact it ranked amongst the top systems at WMT 2018.
AltLang is an automatic language variety converter that will help you deliver content into different varieties of the same language. It has been developed by Prompsit and it is based on Apertium technologies. Its conversions are completely reliable and will make your content be not just in the right language but also in the right variant of your clients.

Prompsit is now offering the AltLang service for free.

Your free credentials are:

Engine name: AltLang
Key: 4Acu5Wr8

Apertium is a rule-based free/open-source machine translation system. Well, not quite, indeed it's a machine translation platform that allows you to build your own machine translation systems. This is what the Apertium community has been doing for more than a decade. Prompsit, along with other individuals, companies and organizations, is part of this community and proudly offers you this Apertium-based service through Matecat.


Your free credentials are:

Engine name: Apertium
Key: Si2NeQ9pU

Tilde is a custom MT system for specific language pairs and domains.Tilde offers the full cycle of services required to develop fully customized MT systems: data processing (cleaning and alignment), corpora collection, terminology management, linguistic tool development, MT engine training and tuning, quality evaluation, and on-demand customer support. This complete cycle of services enables customers to convert their raw data into fully customized, terminology-savvy MT systems for specific language pairs and domains.

Tilde has special expertise in developing high-quality MT systems for complex, highly inflected languages.Tilde MT cloud-based systems are available for a low monthly subscription fee, which includes high translation volumes, on-demand customer support, regular system improvements, and focused consultations about MT integration in your translation workflow.

Sign up now for a free 30-day trial, which will help you get started right away:

Google Translate API: if you have a personal account on this MT engine, you can use it while working on Matecat.
Intento a simple API to third-party AI models from many vendors. The performance of third-party AI models varies up to 4x case by case. It depends on how their training data is similar to yours and you never know. Given 100x difference in price, the wrong choice may be a complete miss. We help to source, evaluate and use the right models in a vendor-agnostic fashion.
IPTranlsator from Iconic is a specialized machine translation system for the patent and legal translation industry. It delivers high-quality machine translation adapted specifically for this domain based on scientific expertise and deep domain knowledge. It does not require any additional data.
Microsoft Translator Hub lets you build your own machine translation system starting from your own data and/or public data.
Moses is a statistical machine translation system that allows you to automatically train translation models for any language pair. All you need is a collection of translated texts (parallel corpus). Once you have a trained model, an efficient search algorithm quickly finds the highest probability translation among the exponential number of choices.
MT-HUB provides immediate access to multiple MT suppliers.
SmartMATE is the software toolkit created by Capita TI that can be used as an additional productivity tool in the localization process, as well as used to produce a fully automated translation used for gisting purposes.
Tauyou is a provider of MT engines created starting from the Translation Memories (TMs) from clients.
Yandex. Translate is a modern statistical MT system available as an online public service, an application for major mobile platforms, and a commercial API. The service currently supports more than 90 languages