In Matecat, translation jobs are organized into projects. A project is made up of one or more translation jobs and each one is associated with a unique job URL. Each project can be created with one source language and one or more target languages.
If you need to store your project and recover it later, you should firstly log in clicking on the profile icon in the top-right corner of the home page. This allows you to add all your projects to your My Projects panel.
How to create the project?
To create a new project in Matecat, from the homepage www.matecat.com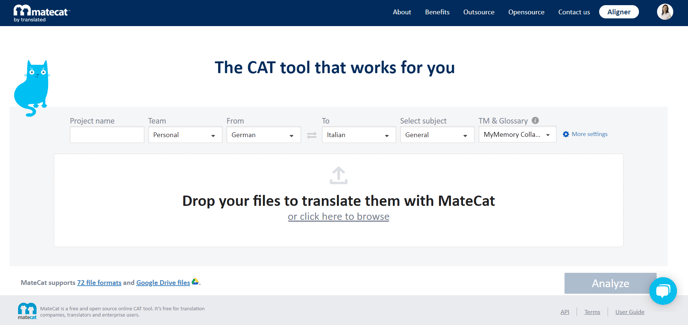 Choose the language pair(s) for your project.
You can also select more than one target language by clicking on Multiple languages in the target language drop down menu.

A selector with the list of all supported languages will be displayed.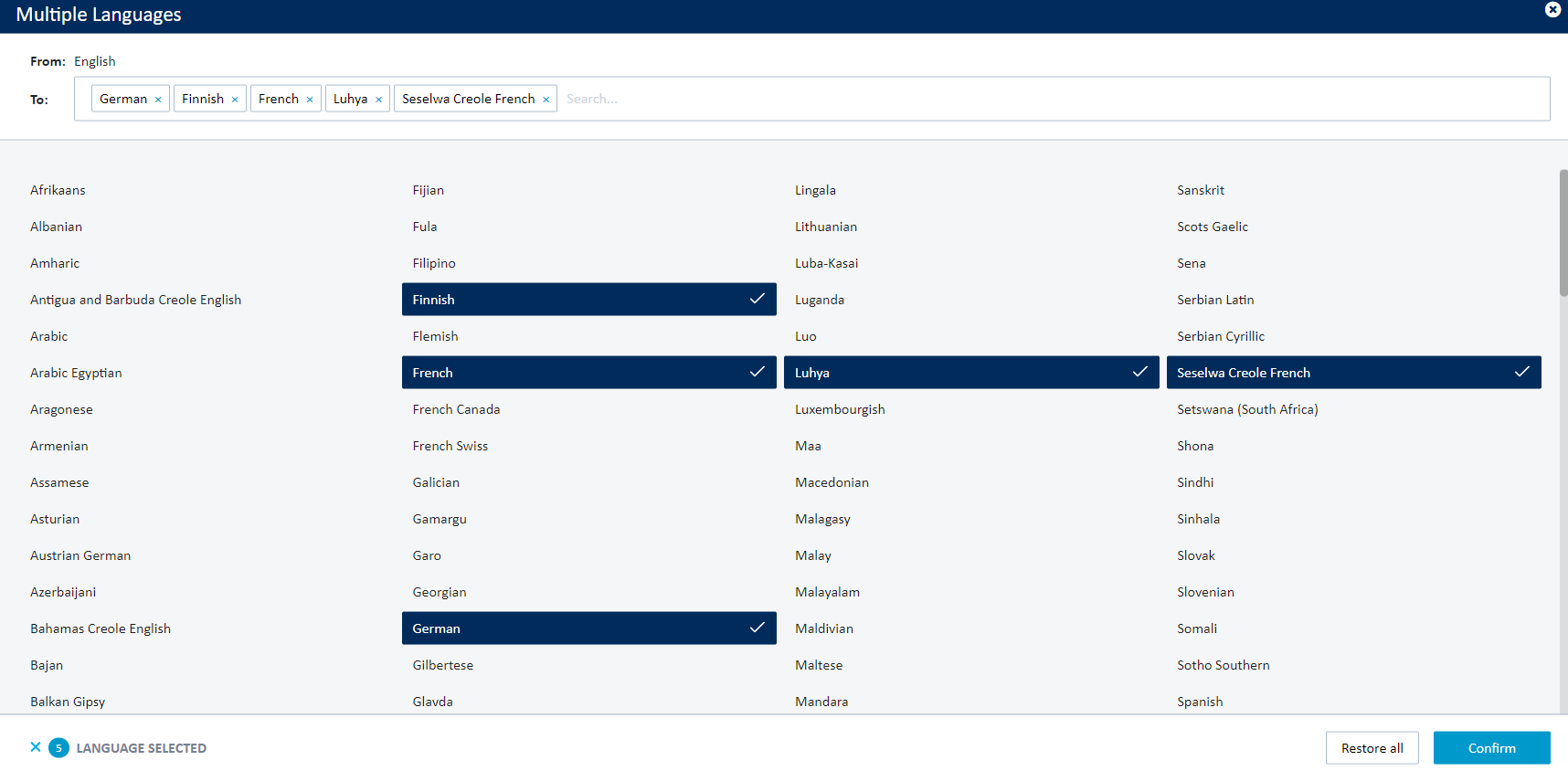 2. Upload the file(s) to translate in any of the 78 file formats available.
You can either directly drag and drop the file(s) or browse for them by clicking on the + Add files…
You can create projects with up to 150 files, with a size limit of 100MB each, and translate them without any lags in the application.
You can upload files that do not exceed the limit of 250k words. In case of a bigger file you will see a message like that: Forbidden. Matecat is unable to create the project.

In this case, you can get in touch with the Support team that will help you in creating the project.
If you need to delete an uploaded file you can click on the dustbin icon. If you want to delete all the uploaded files you can click on the Clear all button.
3. Give your project name (optional).
4. Create a new TM or select an existing TM and/or Glossary directly from your Translation Memory and Glossary tab in Matecat (to manage your TMs and glossaries you need to log in).
5. Select a subject for your project from the drop down menu.
6. Choose a team under which your project will be stored in the My Projects panel (optional).
Once you are set, simply click on Analyze to run the volume analysis for your project, and that's it!
Translating Google Drive docs, spreadsheets and presentations

You can translate Google Drive files (docs, spreadsheets and presentations) by importing them directly into Matecat, without downloading them and with no layout or formatting loss.
In this case you can upload only GDrive formats (Google Docs, Google Sheets, Google Slides). The maximum file size you can upload and convert is limited: 2 MB for Docs, 20 MB for Sheets, and 50 MB for Slides.
From the Matecat home page, click on the Google Drive files link in order to select the file(s) that you want to translate. You will be asked to log in to your Google account in order to have access to your Google Drive files.
Once you log in, a new window will open up from which you will be able to select the files to add to your Matecat project. Google docs, presentations and spreadsheets are supported.
Click on the file or press Ctrl+left-click to select multiple files, then click on Select.
Press the Analyze button to proceed with the project creation as usual.
After the analyses process is completed you can to click on the Translate button to go directly to the translation editor and translate yourself.
Alternatively, you can outsource the project to Translated, by clicking on Buy translation. Matecat will provide an instant quote by Translated to have your content translated by a professional translator.